Recently I went to see the Francis Bacon Opera by Stephen Crowe at the contemporary Opera festival Tete a Tete  in Hammersmith, London. The work is an 'opera-tisation' of the interview with Francis Bacon for the Southbank Show by Melvyn Bragg in 1985 and the opera uses the interview 'word-by-word' as its libretto.
You can view the rest of the interview in here: Youtube
What's the story?
Opera aside, I was quite taken by the interview itself and in particular with one section where Francis Bacon is asked about the story he is trying to tell with his paintings. 'I don't want to tell a story; I have no story to tell. I want to give you a shock…Not a shock you get from a story. A visual shock.'
I can imagine asking Beethoven the same question 'What's the story behind the Appassionata?' Did he have a story to tell? I am sure he didn't want to shock anyone with his work, but I don't think he was telling a story either. Music is composers' medium for expressing an emotion or mood. The performer will have to grasp this expression and transfer it to the audience. The audience can then make up the story.
When asked what he's trying to tell with a painting, F. Bacon replied 'Nothing, except from what people want to read into it…'
A storyteller
The storyteller uses words, the composer uses sounds and Francis Bacon: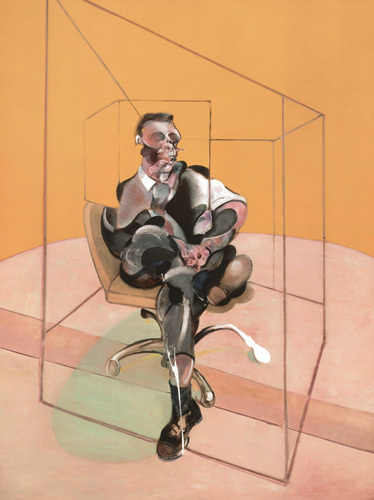 Study for Portrait 1971 by Francis Bacon