Before my last concert on the 27th July in Hampstead Garden Suburb, I was asked if I would be willing to talk to the audience before the performance and let them know a bit about the pieces I was about to play.
I have been considering this since I have been told that when I announce my encore pieces the audience is sometimes confused. It comes as a bit of a surprise to hear a human voice from someone who performed in silence until then. So I did briefly talk about the pieces I was about to perform and the general mood of each piece.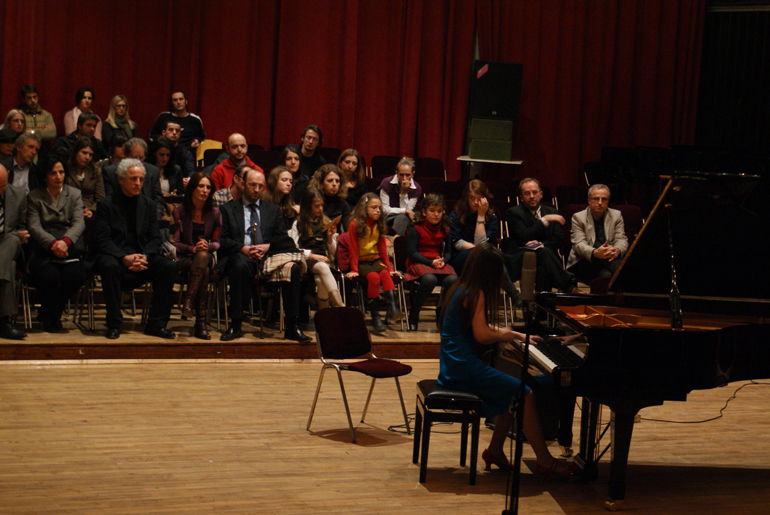 Promotional concert of the Chopin Society of Kosovo
Social media opinions
I asked people on social media (Facebook and Twitter) what they thought about hearing the performer talk to the audience and received an interesting variety of opinions. From the responses it was interesting to find out that the audience would like to have a relationship with the performer and that talking to them beforehand would create a more intimate atmosphere (regardless of the size of the hall). The entire concert would feel like a shared journey and the audience would feel part of this performance, too.
In person
After the concert I spoke to some of the audience members and asked them how useful it was to have me talk about the pieces beforehand and I got the impression that it was interesting for them to find out what I thought the pieces were about and the message I was trying to convey.
My conclusion
I think the audience would quite like to hear what you think about the place you're performing, the significance of that particular time in your life and your insights on some of the pieces you're about to perform. I wouldn't necessary want to influence their opinion on a particular work, but if the work is not often heard it might help them to understand it better.